Invoice Discounting For The Logistics Industry
Logistics and transportation play a major role in the economic development of a country as an industry. Logistics is not confined to manufacturing set up alone; it plays a crucial role across industries and sectors like retail, financial services, etc. and even government and schools. The dependency on all major factors of human, financial, technology and natural calamities makes it complex as well as important.
The impact of logistics is evident in every aspect of a company, right from the purchase and delivery of raw materials to packaging, shipment and transportation of goods to distributors. Managing day-to-day operations and clearing unpaid invoices can be challenging, resulting in the need for quick access to working capital.
Bill discounting can help fund the logistics and transportation industry by freeing up cash sitting in unpaid invoices. The need for working capital arises not only for transporters but for all those who are a part of the supply chain. The dependency on unpredictable and fluctuating factors makes it all the more necessary for organisations to have a strong cash flow system. Demanding factors like increased competition, tighter margins, longer and delayed payment cycle, payment defaults only add on to the many challenges that logistics businesses face.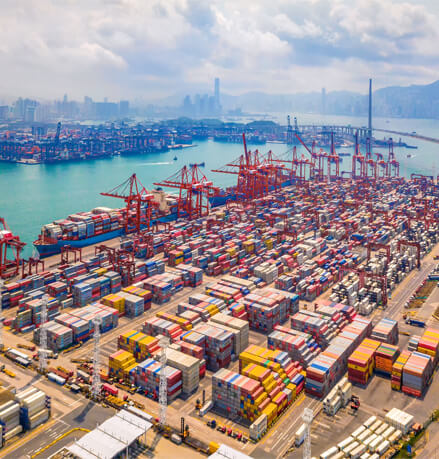 How Invoice Discounting Helps Logistics Companies:
Invoice discounting for the logistics industry can help in more than one way-
Unlock money by clearing unpaid delivery invoices:
Get access to quick working capital within 24-72 hours
Sail through your cash flow requirements with our no collateral working capital
Cover miles by making optimal use of your unpaid invoices
Efficient supply chain management:
Mobilise the supply chain with access to working capital at all times
Seamless running of the supply chain from transportation costs to deliveries
Happier customers due to lesser efficiency gaps
Fuel business growth by getting access to liquidity:
A surge in the number of orders due to timely payments
Business growth due to more sales
Larger fleet to complete orders

How Does Invoice Discounting Work?
Consigner raises an invoice against the consignee payable within 30 - 90 days
Post KYC and successful onboarding process, consigner uploads unpaid invoices on the KredX platform
The consigner gets fund credited to the account within 24 - 72 hours*
Why KredX?
Quick access to funds: Get access to quick working capital via KredX's invoice discounting technology enabling shippers & consigners to become verified vendors and receive funds within 24-72 hours*
Collateral free: No need for securities or collaterals to get working capital
Discount rates ~ 1.2-2%**: Get unpaid invoices discounted at competitive discounting rates
Easy digital process: Enjoy a seamless digital process with hassle-free technology on the KredX platform
Off-the-books: KredX offers a zero-liability bill discounting service that doesn't impact your balance sheet
Real-time status update: Track the status of listed invoices on the platform
How Can KredX Help Your Logistics Business Grow?
A leading logistics start-up was facing challenges to keep up with the growing demands of the business. This led to the challenge of managing the day to day operational expenses with an immediate need to increase the credit line to help with growth and expansion. The need for working capital arose for transporters, suppliers, and others. Owing to the stringent process of other financial institutions, the company decided to opt for invoice discounting for transport and other services to meet their working capital needs.
The KredX Offering:
KredX provided logistics financing solutions to all our patrons in the logistics industry. The company was offered a tailor-made 'Receivables Financing' product for its vendors by providing them with 60 days of additional working capital, wherein:
The company raised invoices against its customer payable within 60 days
Discounted invoices were listed on the platform for 60 days
KredX's investors purchased invoices as per the terms and conditions
The funds were disbursed to the business in 24-72 hours
At the end of 60 days, KredX investors received the principal amount invested along with the profit earned
Result & Impact:
This helped the company to better manage its liquidity along with maintaining a better relationship with its customers. Furthermore, it aided in opening new avenues for the company in terms of growth and expansion.
Eligibility Criteria For KredX:
Business should be at least 10 months old
Business should cater to at least 2 large-scale corporates (MNC | Renowned Brand name | Company with INR 1000+ Cr turnover)
Credit bureau score of 650 and above
Business should have a minimum turnover of INR 25 Lakhs
If the business in question is a startup, minimum funding amount should be $30 Million
Verification And Onboarding Process For A Logistics Business:
After successful signup, businesses have to follow the following two stages for the on-boarding process.
Pre-sanction stage: Once a logistics business comes looking for invoice discounting service on KredX, we initiate the process to evaluate their profile. This stage requires the verification of a set of documents.
Sanction: Once the documents have been evaluated and verified, a Sanction Letter is sent to the consigner to be accepted and signed.
Post-sanction stage: Once the vendor has signed the Sanction Letter sent by KredX, we require another set of documents to be able to begin listing the invoices on the platform.
KredX follows a stringent, multi-pronged evaluation process to vet and verify the authenticity and intent of businesses.

Documentation:
The following documents are required for the onboarding stage
Pre-Sanction Stage*:
KYC of directors
CIBIL record of directors
Proof of address and PAN Card of company
Bank statement of the last 12 months
Books of account/audited financials
Sales data for the last 1 year
Loan Declaration
Post-Sanction Stage*:
Board Resolution
Post-dated cheque
Tri-partite undertaking involving KredX
Memorandum of Association and Article of Association
Personal guarantee letter
Articles of association