What Is

KredX Global Trade?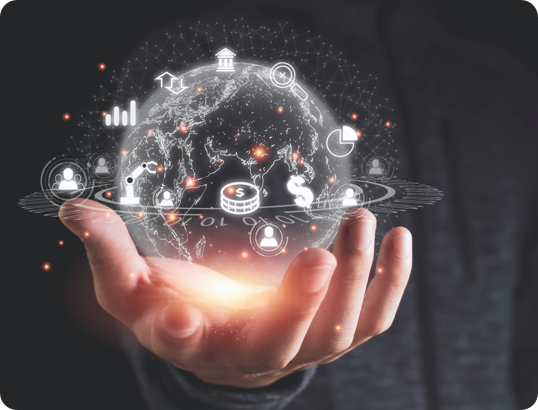 You can now unlock capital tied-up in international receivables and give a boost to your cash flow requirements. KredX Global Trade offers post-shipment financing to businesses, solving their working capital problem as well as empowering them to follow the path of growth and make a mark in the international market. Start your journey with KredX today and get collateral free capital, now!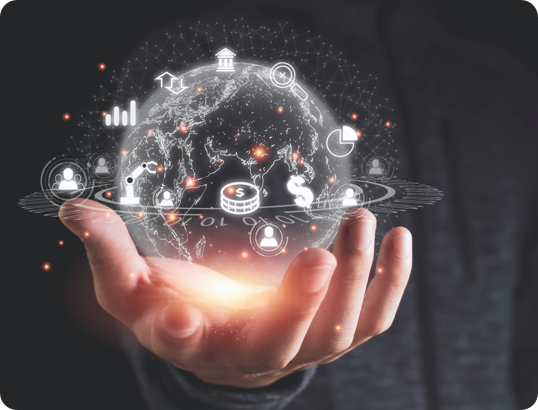 Collateral Free
Get working capital without any collaterals

Lowest Cost
Get a competitive edge through lowest interest rates

No Upper Limit
Boost your growth with no upper limit on the sanctioned amount

Insurance Backed
Minimise risk and spread your wings with our insurance backed solution

Dedicated Customer Support
Helping you throughout your journey is our dedicated support team

Customised Solutions
Get solutions tailor-made for your requirements
Helping Business Owners Since 2015
1.5

Million

Invoices Discounted
USD
10

Billion

Transaction Volume Till Date
40,000

+

Businesses Helped
70,000

+

New & Returning Investors
300

+

Corporates On KredX Platform
How Does KredX Export Financing Work?
1
Easy Sign Up
To get started, fill out the form and smoothly move on to the next step
2
Quick Onboarding
Digital process that provides smooth and hassle-free on-boarding after understanding your financial requirements
3
Document Submission
Submit all the required documents at the click of a button which will be reviewed and assessed by the KredX team
4
Funds Disbursement
Upon successful assessment, the funds will be disbursed to your business account withing 24-48 hours
LIVE MINT
HinduBusinessline
YourStory
India.com
ET Now
FAQs
Kredx Global Trade facilitates global supply chain financing to Indian Exporters for merchandise exports.
KredX facilitates post shipement export financing only for cross border merchandise exports. We do not cover pre shipment financing or deemed exports.
Kredx does not ask for collateral, neither insists on opening a current account and the facility is excluded from the drawing power i.e your regular banking facilities remain unaffected.
Kredx offer's only post shipment finance to Indian registered exporters for the merchandise exports originating from India. We do not provide pre shipment finance / import finance / LC backed financing.
Kredxs's offers without recourse receivable financing products. The facility is without collateral and is backed by credit insurance covering buyer bankruptcy only however for any other reason such as commercial dispute the recourse is to the exporter and Kredx will have the right to recover the financed amount alongwith the charges to the exporter.
No, Kredx does not demand any collateral for the facilities extended to the exporter but would require the invoices which are factored to be assisgned to us.
We require a minimum of 1 year of regular trading history with the buyers.
No, all transactions that Kredx extends financing needs to be covered by the insurance company that Kredx has tied up with.
At this point of time Kredx does not have any offering for any type of pre shipment finance.
Post shipment financing benefits those exporters who terms of payment are on credit. Typically a buyer will ask his supplier for a credit period of 30-60-90 days. With post shipment finance you get immediate acces to capital and you do not have to wait that long to get paid. You can then use these funds to pay your suppliers, accept more orders from your buyers or invest it in the maintenance or upgrade of your factory. It's of significant benefit to exporters having a long credit cycle.
In order to avail of the post shipment receivable financing, one needs to have a minimum of 2 years of performance history as an exporter.
Kredx extends export finance for goods that are on open account (OA),and Documents against acceptance (D/A)
Currently Kredx offers only post shipment finance.
"Step 1 : Submit Invoice / Purchase Order (PO) and Bill of Lading (BL) along with the buyer details to Kredx.
Step 2 : KredX does the credit assessments and advises buyer wise limits.
Step 3. Kredx pays you upfront upto 80% to 85% of the Invoice value within 24-48 hours
Step 4. Your customer pays Kredx directly on the due date entire invoice value (100%) and Kredx will liquidate the outstanding deal amount and pay balance 15% to 20% margin to you after deducting interest and commission charges. acutal liquidation."
The exporter should have a track record for 24 months of exports with a min annual turnover of USD 3 M.
The cost varies and is based on the creditworthiness of your overseas buyer. Kredx can provide you with a proposal upon receiving complete details of your transaction.
It's on full invoice amount.
Interest is charged on the advanced amount only
Facility fees is charged on the full amount.
Such a structure is not allowed.
Yes, if your buyer pays partly in advance and agrees to pay the remaining sum in 45/60 days from the bill of lading (BL) date, Kredx can extend finance on that invoice.
Kredx can provide a maximum finance upto 85% of the net invoice value, subject to internal credit approval. In certain instances, the approved amount may be lower than 85%.
On submission of proof of shipment Kredx will transfer 85% of invoice amount to your bank account, this is a payment made by Kredx for purchasing your receivables (from buyer). This finance arrangement is that of 'Receivables Purchasing'. We are essentially purchasing the rights to collect payment for your invoice in exchange for an advance payment to you. Receivables in this case are the payments for goods that you will receive on due date of the credit period (from your buyer) and thus your buyer has to make the full and final payment to us on due date. After receiving the payment Kredx will deduct our charges and then transfer the balance of the amount back to your account.
Option 1 – In an open account operation, where you send documents directly to your buyer, you can continue with the same procedure. Please ensure that you also send Kredx a scanned copy of all the documents.
Option 2 – If you follow the practice of sending your documents through your bank to the buyer, you will need to change the procedure. It will be necessary for you to send the original documents to Kredx and Kredx will arrange to send the documents to your buyer.
Option 3 – For those exporters who follow the practice of sending documents through their bank to the buyer's bank, it will be necessary to follow a revised procedure wherein the documents will need to be routed through the Bank designated by KredX
If all the requisite data is submitted from your end, the turn around time for granting this facility is as fast as 7 days from the date of application (from the date Kredx receives all the requisite data and information required for internal evaluation).
Yes, as long as the email is coming from the buyer.
Mandatory transaction documents required to be submitted are:-
a) Purchase Order, b) Commercial Invoice, c) Bill of Lading, d) Purchase Request Letter, e) Bill of Exchange (if applicable), f) BL Delivery Letter (if applicable), e) Bank Covering Letter (if applicable)
2) Invoice format instructions, the invoice must mention the assignment to Kredx as well as our bank account details as per the text provided by KredX
BL must mention your invoice number. If it does not, we would need a copy of the shipping bill mentioning the invoice number
In the event of buyer bankruptcy, Kredx will file a claim with the insurance company. Upon receiving the payout from insurance company, Kredx will recover it's dues and pass on the remaining surplus funds (if any) to exporter.
Exporter would send buyer notification letter on it's letter head (format will be shared by Kredx) and then Exporter would give Kredx the scanned image of acknowledged copy signed by buyer. Kredx on it's part will contact buyer and get a confirmation on buyer acknowledging the signing of letter and a confirmation that all proceeds would be remitted to Kredx's account irrespective of invoice's purchased or not by Kredx.
No, we currently do not function with such an arrangement
No, we would not be funding in such an instance.
No, related party sales are not financed by us.
No, related party sales are not financed by us.
We require atleast 12 months of consistent trading history with the buyer.
No, we do not finance consignment sales.
No, we do not finance such transaction.
This document is in the nature of a Deed of Assignment that specifies the commercial terms on which the Exporter is assigning the receivables to Kredx i.e. purchased from the Exporter. All receivables assigned under this agreement are sold exclusively to Kredx and all the corresponding rights associated with these receivables i.e. right to legally proceed against the Buyer, ability to onward assign the receivables to the Credit Insurance company are covered under this agreement.
Kredx provide's postshipment export finance to exporters located anywhere in India.
A basic set of information is required from your side and that would include information about your company, ownership pattern and your financial statements. Additionally, details of the proposed transaction and buyer. Upon receipt of the completed Kredx Application Form, Kredx will process your application.
We would revert within 5 working days and advise you if insurance cover is availbale on the buyer or not.
Kredx's offering on the postshipment export finance is a non-recourse facility. However in the case of a commercial dispute, it is with full recourse to the exporter.
Our Office Locations
Wing 'A', Ground Floor,
Office-1 Block-'A',
Salarpuria Softzone, Bellandur Village,
Varthur Hobli,
Bangalore South Taluk,
Outer Ring Road, Bangalore – 560103
Directions
Apeejay Business Centre,
6th Floor, Arunachal Building,
19 Barakhamba Road,
Connaught Place, New Delhi - 110001
Directions
Not Sure Where To Start?
Talk To Our
Advisors Now